Vision Statement
At Chabad of Dumbo our stated goal is to provide a warm and welcoming environment in which every Jew can feel comfortable learning about and living their heritage.  Through creative programming and an understanding of New York City's unique culture we are creating a non-judgmental atmosphere where everyone can experience authentic Judaism; and integrate these teachings and practices into their own lives. We will continue to offer a diverse series of classes, schools, workshops and services to encourage and enable the continued growth and nourishment of Dumbo's diverse Jewish community; and for every person that thirsts for authentic spirituality in Dumbo and greater NYC.

About Us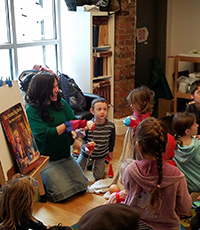 Rabbi Avrom                                                        Esther
Co-Director Chabad of Dumbo                            Co-Director Chabad of Dumbo

Chabad of Dumbo was established in 2005 when newly married we had the vision to build a vibrant, authentic, modern, Jewish community in the nascent picturesque neighborhood of Dumbo, Brooklyn.


Offerings

Shabbat and Holiday programming

Bar / Bat Mitzvah lessons/education

Preschool/Childcare
Hebrew School after school program
Adult Education
1 on 1 Learning
Personal Counseling
Chicken Soup for the Neshama and lots more!
Our Mission is to illuminate each Neshama (Soul) and thereby the World with the light of Torah, Mitzvot and Acts of Goodness and Kindness.
Contact us at [email protected]